Nice, I voted for dragons too. What's happening to all the voters?
The first poll we had 18, than the P-foods poll we crept down to 17, now this?
Anyways. I'm just glad that the red herring didn't win this time. In the docu-film when
Olson
asks
Johnson
if he believed in dragons, his answer was
wait, what?
And it cut to the next shot. Now I didn't include it in the poll because knowing you guys, it had a high probability of winning and that was not nearly as interesting as 'Yes'.
Figure A. Komodo dragon leg bite
I was at
Olives
, last night and we were watching
LOST
. With all the flashbacks happening the conversation turned to why girls always want to 'go back to the beginning' in relationships.
I just want it to be like before!
Girls, you need to watch
Back to the Future
nothing good happens when you go back to the beginning. You may find yourself in an uncomfortable situation with your parents trying to date you, you may find yourself playing for
Chuck
Berry
's band (this one isn't necessarily bad) or you may even find yourself with an arch nemesis named
Biff
(this one sucks).
If I've learned anything from the movie trilogy is that going back to the beginning can't help us baby, it can only harm us.
Figure B. Michael J. Fox hoverboarding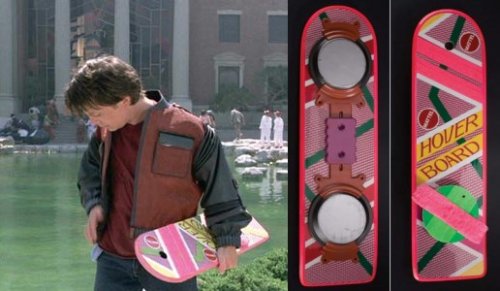 Box,
has been bugging (more like begging!) me to do a blog post about skateboarding and I haven't done one in a while so here it is Box. You can't beat the hoverboard, can you imagine front rockin' on this stick? You could front rock on an angry dragon.
Figure C. Kimmie with great insight
Well well, look at the time. Can someone tell
LPB
, to come down to the office?
Val
dropped off her lunch and she needs to come pick it up.
I can feel this blog post starting to suck already, it had potential I know, I know.
Edit:
Keith Hufnagel is the founder of 'Huf' clothes. He skates. He's #1 skateboarder in the world.
Damn I wish I was #1 at something.